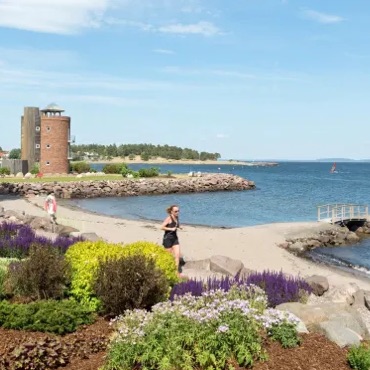 Furustrand is a great starting point for trips in the area. The Karlsvika-Vallø coastal path winds through Furustrand and stretches over 5 km along the Oslofjord. You can walk all the way to idyllic Åsgårdstrand.
The coastal path in Tønsberg is a great hiking trail that runs along the coast and offers fantastic views of the Oslofjord and the surrounding islands. The path starts at the pier in the center of Tønsberg and continues along the Tønsberg Fjord, past several idyllic marinas and beaches.
Part of the coastal path also runs along Ringshaugstranda, which is a popular beach for swimming and water sports. Here you can take a break and enjoy the view, or continue along the path and explore more of the area.
Further along the coastal path you come to Hvasser, which is a popular island in the Tønsberg archipelago. Here you can see many beautiful cabins and beautiful coastal scenery, and you can also visit several eateries and cafes along the path.
From Hvasser, the coastal path continues to Verdens Ende, which is a popular hiking destination and one of the most photographed places in Vestfold. Here you can watch the sun set and enjoy the view of the sea and the many small islands in the area.
The coastal path in Tønsberg is well marked and relatively easy to follow, and it is suitable for both walkers and cyclists. There are also several places along the path where you can sit down and enjoy the view or take a break. Together with the beautiful nature and the many idyllic places along the coast, this coastal path makes a great experience for everyone who visits the Tønsberg area.